Call tenBiz today
828.631.0310
Everything your business needs, including what you didn't know you needed.
Introducing your business support system. Whether you need to grow, simplify or connect, we'll figure it out and help you get there. We're everything you never knew your business needed.

Grow Your Business
There are many different ways to grow your business.  It's a matter of finding what works for you. We'll create a personalized approach to your business so you're using the right strategy to grow.

In The Right Direction
Before your company can grow, you'll want to make sure your foundation is solid. We'll make sure your process is streamlined and working for you so you can focus on growth.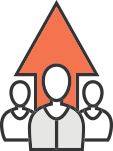 With the Right People
Sometimes the hardest part is knowing who to ask for help. We have an extensive network of people ready to answer your questions and help you with any task, no matter how unique.
A Connected Community.
The tenBiz team has a wealth of experience, and our clients continue to grow across the US. We have trusted and working relationships with small and large businesses in the southeast region as well as a larger network across the country. As we continue to work, we look forward to growing our community and relationships across the nation. Hopefully one day we'll work with you.
"We would have never been as successful if we didn't have the expert advice and one-on-one guidance from tenBiz. We saw real results and know you will too!" –Megan Orr Sheets